Mathematical Art Online
Posted on in Events
A friend of mine asked me the other day if I knew of any good sources of math art wallpaper as Google was not turning up anything very good. While I don't have any specific sources of desktop backgrounds, I do have some great sources for mathematical artwork. Over the past few years I have participated in the Bridges Math Art Conference and the Joint Mathematics Meetings, both of which have exhibitions of mathematical art every year. There is a full list of these online math art galleries, and here is a selection of just one of my favorites from each of the four exhibitions that I have participated in: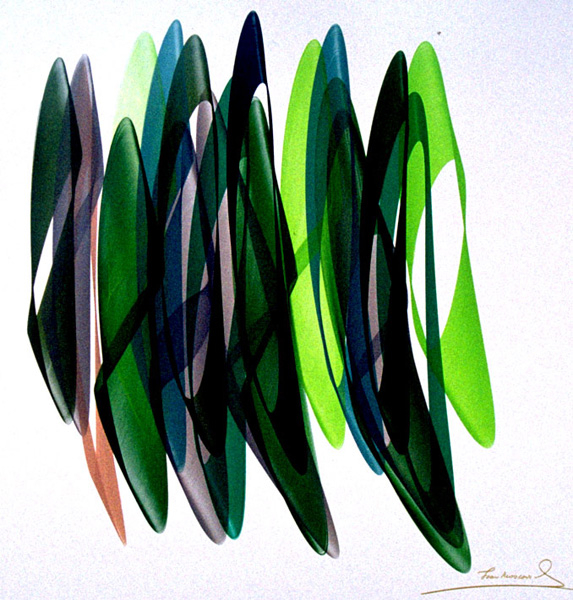 "Harmonograms of Moscovich" by Ivan Moscovich. Analog computer originals. 24" x 24". 1968.
More math art from Bridges 2010
"Illuminated Shamsa" by Anita Chowdry. Gampi paper, hand painted with water based hand ground mineral pigments and 24 ct. gold, 36cm X 36 cm, 2007.
More math art from Bridges 2009
"Berlin_Airport_Express_01" by Hans Dehlinger. 2007, Pen-Plotter-Drawing, Pencil on Paper, 30 x 35 cm.
More math art from Bridges 2008
"Wave (32)" by Goran Konjevod. One folded square sheet of paper, 10" x 10" x 5", 2006. First prize.