Chinese Dragon
Print, 2007.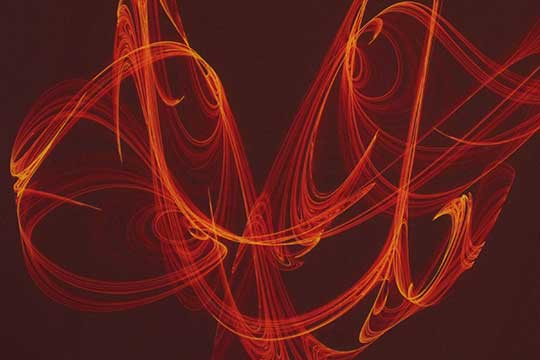 Reminiscent of a Chinese dragon kite, an abstract face-like form emerges from a virtual mathematical world that I explore using the computer and custom software.
Art and mathematics – the right brain and the left – are inextricably linked in this work, which depends on mathematics, yet simultaneously illuminates and unravels its beauty.
Components
C-print, Diasec mount
Dimensions
18 x 24 inches
Edition
Limited Edition. Click here for details.
Exhibitions
2011 – Visions: Real and Imagined (with photographer Ellie Schorr), GardensArt, Palm Beach Gardens City Hall, Palm Beach Gardens, FL
2011 – Process & Influence (solo), The Gallery at Eissey Campus, Palm Beach State College, Palm Beach Gardens, FL
2009 – Joint Mathematics Meetings Art Exhibition, (JMM / SIGMAA-ARTS), Washington, DC
2008 – Bridges Leeuwarden 2008 Art Exhibition, Leeuwarden, the Netherlands
Links
Strange Attractors Tech Notes Tutorial: Strange Attractors in C++ and OpenGL