Death Mask 1
Print, 2007.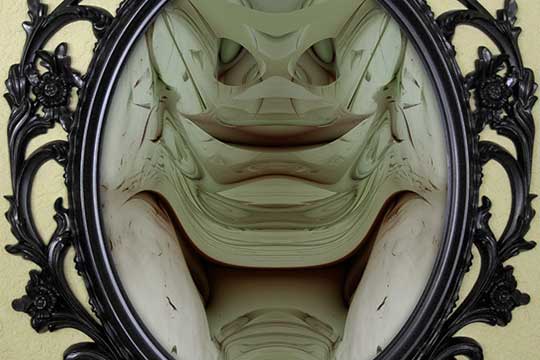 From thousands of images generated during the development of the Faces of Chaos series, this was chosen for its subtle detail and evocative overall form.
Our brains are attuned to see faces in almost anything that has bilateral symmetry, including mathematically generated images like this. Beyond attributing facial characteristics to abstract images, I also found myself choosing names and colors that created an almost mythological aura, with archetypes such as "king" and "warrior" emerging from the chaos.
Components
Inkjet print in a baroque style black plastic frame
Dimensions
33 x 22 inches
Edition
Limited Edition. Click here for details.
Exhibitions
2011 – Solo exhibition, Urban ReThink, Orlando, FL
2011 – Aesthetic Explorations and Eyes of My Soul (with photographer Russell Levine), Highland Beach Library, Highland Beach, FL
2011 – Visions: Real and Imagined (with photographer Ellie Schorr), GardensArt, Palm Beach Gardens City Hall, Palm Beach Gardens, FL
2011 – Process & Influence (solo), The Gallery at Eissey Campus, Palm Beach State College, Palm Beach Gardens, FL
2008 – Math and Art, AXIOM Gallery, Boston, MA
Links