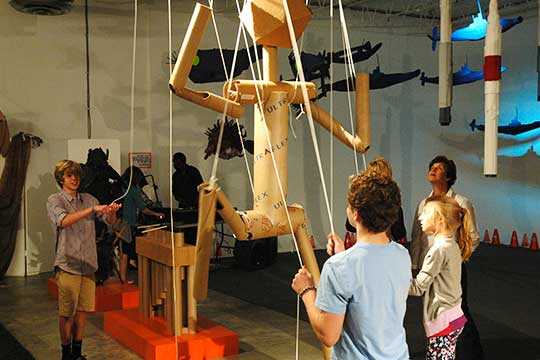 For the first annual Cardboard Art Festival, I reused the bits and pieces of Intersect, a temporary site-specific public art installation, fashioning them into a giant cardboard marionette.
This stickman-like puppet is a multi-player experience, with strings that control its body, arms and legs. As part of the Society of Stickpeople series, the work explores the contrast between individual and collective action, and ideas of impermanence and control.
Components
Recycled cardboard, recycled hammock chair crossbars, rope, string, pulleys, miscellaneous hardware
Dimensions
15 x 4 1/2 x 1 1/2 feet
Edition
One of a kind. Available for temporary installation or purchase. Contact me for details.
Exhibitions
2013 – Orlando Mini Maker Faire, Orlando Science Center, Orlando, FL
2013 – Cardboard Art Festival, Say It Loud, Orlando, FL
Credits
Giant Marionette was created with support from Mark Baratelli and TheDailyCity.com, Say It Loud, Doug Rhodehamel, Brendan O'Connor, Christie Miga, and Evan Miga.
Links
Press