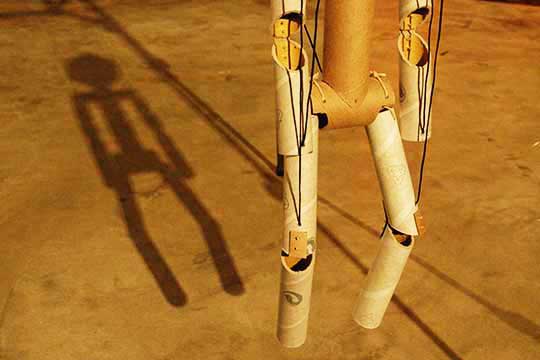 Part of the Society of Stickpeople series, the mini marionette is a small, fully functional, interactive puppet.
The marionette's head is an icosahedron – a form familiar to most mathematicians – and the rest of its body is made up of cylinders jointed in various ways. Occupying the space between whimsy and foreboding, the abstract human form does not embody a particular gender, age, or other demographic. Thus, viewers are left to create their own story for the stickperson as they view and interact with the work.
Components
Recycled cardboard, toothpicks, string, imitation sinew
Dimensions
16.5 x 5 x 3.5 inches (not including strings)
Edition
One of a kind. Available for purchase. Contact me for details.
Exhibitions
2013 – Bridges Art Exhibition, Enschede, The Netherlands
2013 – Cardboard Art Festival, Say It Loud, Orlando, FL