Process Prints
Print, 2014.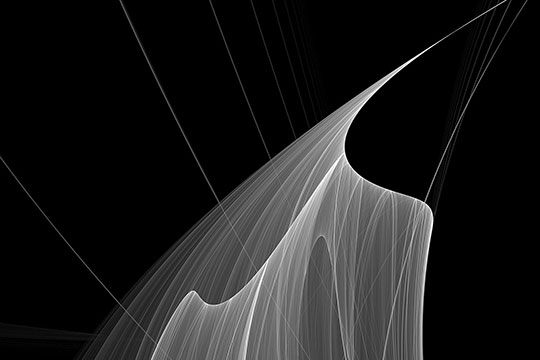 When I prepare an image from my Aesthetic Explorations series of strange attractors for print, the first step is rendering a very high resolution, high quality 16-bit grayscale image from my custom software.
While these images are destined to spend some time in Photoshop in a process of recoloring and enhancement, I find that they are very beautiful in and of themselves. The nature of algorithmic artwork (and fractal phenomena in nature in general) is that there is captivating detail at all scales.
Components
Inkjet print, framed
Edition
Limited Edition. Click here for details.
Exhibitions
2014 – Taking Flight, Snap! Space, Orlando, FL
Credits
Some photos courtesy Tina Craig and Snap! Space
Links
Trefoil, the artwork from which the Process Prints pictured here were derived
Strange Attractors Tech Notes Tutorial: Strange Attractors in C++ and OpenGL