Society of Stickpeople Prints
Print, 2006.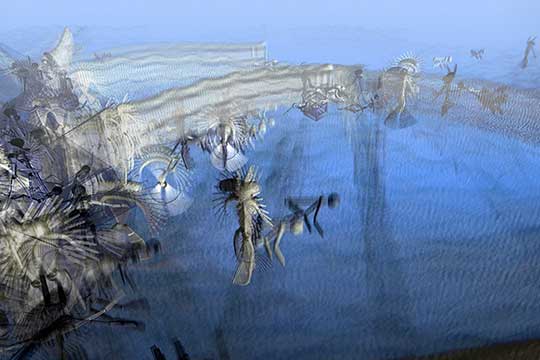 What if you could capture, in one image, the entire "evolution" of a society or ecosystem? This concept is at the heart of my Society of Stickpeople prints.
An interactive program simulates various iconic stages of life – birth, play, love, work, rest, travel, and death – using simple finite state machines. By manipulating the rendering style of the program to resemble "digital chronophotography" (a virtual long-exposure photograph), I was able to generate a wide variety of evocative results. I chose these images out of nearly fifty runs of the simulation to develop into finished artworks.
Components
Inkjet print, matted and framed
Dimensions
15 3/8 x 24 3/8 inches
Edition
Limited Edition. Click here for details.
Exhibitions
2011 – Solo exhibition, Urban ReThink, Orlando, FL
2011 – Aesthetic Explorations and Eyes of My Soul (with photographer Russell Levine), Highland Beach Library, Highland Beach, FL
2011 – Visions: Real and Imagined (with photographer Ellie Schorr), GardensArt, Palm Beach Gardens City Hall, Palm Beach Gardens, FL
2011 – Process & Influence (solo), The Gallery at Eissey Campus, Palm Beach State College, Palm Beach Gardens, FL
2006 – SIGGRAPH Art Gallery, Boston Convention & Exhibition Center, Boston, MA
Awards
2008 – First Prize Winner. "The Image" Competition, The Digital ImageMaker.
Links
Experiments in Digital Chronophotography
Society of Stickpeople Tech Notes