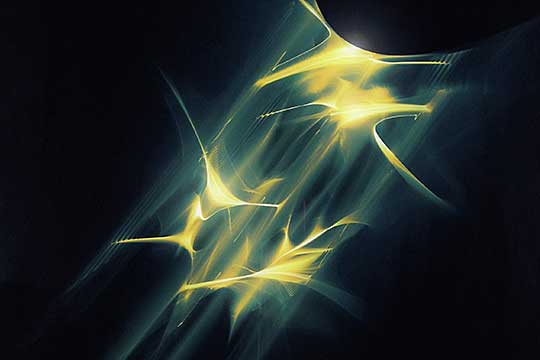 The rhythmic, celestial forms resemble the Eagle Nebula, where stars are born, but this image comes from a virtual mathematical world that I explore using the computer and custom software.
Art and mathematics – the right brain and the left – are inextricably linked in this work, which depends on mathematics, yet simultaneously illuminates and unravels its beauty.
Components
Inkjet print, Diasec style mount
Dimensions
36 x 27 inches
Edition
Limited Edition. Click here for details.
Exhibitions
2013 – One night solo exhibition, Timucua, Orlando, FL
2012 – Beautiful Data: Technology and the Creative Process, Kent State School of Art Galleries, Kent, OH
2011 – Aesthetic Explorations and Eyes of My Soul (with photographer Russell Levine), Highland Beach Library, Highland Beach, FL
2011 – Visions: Real and Imagined (with photographer Ellie Schorr), GardensArt, Palm Beach Gardens City Hall, Palm Beach Gardens, FL
2011 – Process & Influence (solo), The Gallery at Eissey Campus, Palm Beach State College, Palm Beach Gardens, FL
2011 – Orlando Mini Maker Faire, Central Florida Fairgrounds, Orlando, FL
2011 – Energy, Orange County Center for Contemporary Art, Santa Ana, CA
2011 – Next Wave, Lighthouse ArtCenter, Tequesta, FL
2009 – Joint Mathematics Meetings Art Exhibition, (JMM / SIGMAA-ARTS), Washington, DC
2008 – Calculating Art: Mathematics in the Visual Field, Maloney Art Gallery, College of St. Elizabeth, Morristown, NJ
2008 – Bridges Leeuwarden 2008 Art Exhibition, Leeuwarden, the Netherlands
2008 – Art Basel, Swiss Exhibition Center, Basel, Switzerland
2008 – 404 Festival, Teatro Miela and Parco di San Giovanni, Trieste, Italy
Honors
2009 – Selected for Cover, Calendar of Mathematical Imagery. American Mathematical Society.
Links
Strange Attractors Tech Notes Tutorial: Strange Attractors in C++ and OpenGL