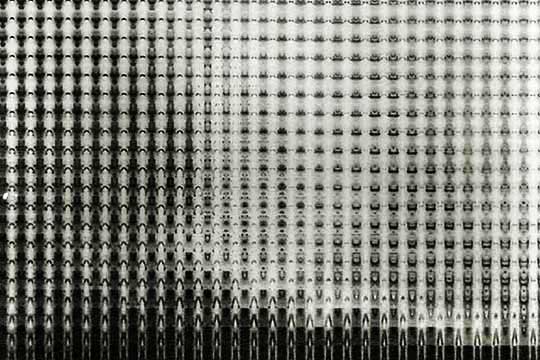 My Faces of Chaos series began as a visualization of a chaotic mathematical system. Tiled Faces is one result of this exploration, and its 1,024 small images combine in a grid to reveal the "face" of the four-dimensional system's chaotic behavior.
The complexity draws the viewer in, closer to the surface, where a myriad of individual "faces" are revealed. Because I approach the challenge of representing four dimensions from an aesthetic perspective, I am free to bring the underlying equations to light, to visually and intuitively understand them. Tiled Faces juxtaposes order and chaos, artistic sensibility and mathematical depth, within its pixels and pigments.
Components
Inkjet print, deckled, float mounted, and framed
Dimensions
53 x 53 inches
Edition
Limited Edition. Click here for details.
Exhibitions
2011 – Solo exhibition, Urban ReThink, Orlando, FL
2011 – Visions: Real and Imagined (with photographer Ellie Schorr), GardensArt, Palm Beach Gardens City Hall, Palm Beach Gardens, FL
2008 – Math and Art, AXIOM Gallery, Boston, MA
2008 – SIGGRAPH Art Gallery, Los Angeles Convention Center, Los Angeles, CA
2007 – Art of Digital Show, Lyceum Theatre Gallery, San Diego, CA
Honors
2010 – Selected for Cover, Journal of Mathematics and the Arts, Volume 4 Issue 3.
Links