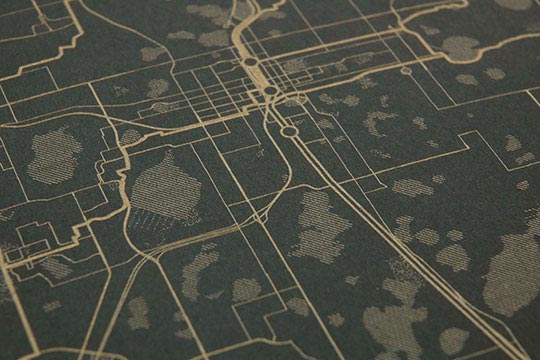 My Local Notebooks project is an intersection of the city, maps, alternative forms of transportation, design, and playing with data.
Using open data and open source tools, along with a unique production process – laser etching – I created a series of beautiful and intriguing notebooks. Although my city (Orlando) is very spread out and car-dependent, my maps envision it differently. SunRail (our new commuter rail) runs north-south; thick lines show the proposed city-wide trail plan (longer-distance bicycle routes), and the thin lines are all the places you can go on a LYNX bus. The many lakes and parks of Central Florida provide the backdrop. I've continued these themes throughout the other cities I have designed maps for.
Credits
Made with QGIS and publicly accessible data from OpenStreetMap and various transit authorities. Special thanks to Bill Ferrante, Kim Britt, Pat Greene, and Shawn Reed.
Links