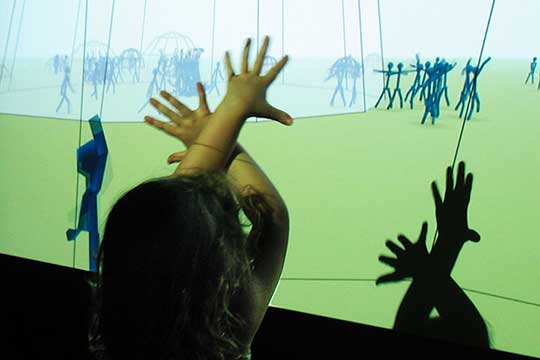 Starting with an almost empty landscape, a virtual population of stickpeople awakens and begins to interact with each other.
The society grows and builds up their environment, and eventually dies off, leaving an empty landscape of abstract buildings, the only remainder of their existence. The artwork invites contemplation on the rise and fall of human societies, and the impact (or lack thereof) of individual versus collective action.
Components
Computer, projector
Dimensions
Variable
Edition
Limited Edition. Available for temporary installation or purchase. Contact me for details.
Exhibitions
2014 – Beautiful Chaos, Coral Springs Museum of Art, Coral Springs, FL
2013 – Arts & Algorithms on the Space Coast, Titusville, FL
2012 – Beautiful Data: Technology and the Creative Process, Kent State School of Art Galleries, Kent, OH
2012 – Granted!, City Arts Factory, Orlando, FL
2011 – Solo exhibition, Urban ReThink, Orlando, FL
2011 – Visions: Real and Imagined (with photographer Ellie Schorr), GardensArt, Palm Beach Gardens City Hall, Palm Beach Gardens, FL
2011 – Process & Influence (solo), The Gallery at Eissey Campus, Palm Beach State College, Palm Beach Gardens, FL
2011 – Orlando Mini Maker Faire, Central Florida Fairgrounds, Orlando, FL
2010 – Upgrade/Downgrade, Open Concept Gallery, Grand Rapids, MI
2009 – RS21 – Research Studio in the 21st Century, Maitland Art Center, Maitland, FL
2009 – RS21, Orlando Museum of Art's 1st Thursdays Event, Orlando, FL
Links
Additional Details
RS21 Catalog
Funding
Supported in part by a 2009 Professional Development Grant from United Arts of Central Florida