The Thousand Faces of Form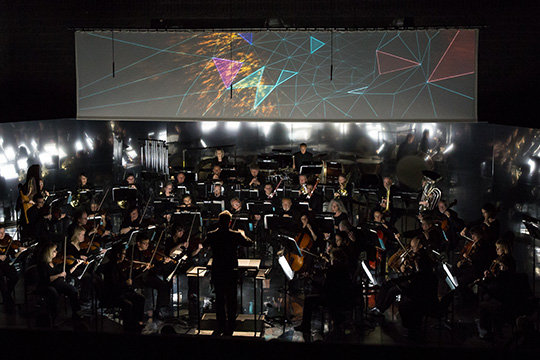 The Thousand Faces of Form is a new work for orchestra, written by composer and music theorist Dmitri Tymoczko for the Kitchener-Waterloo Symphony as part of The Geometry of Music concert curated by Krista Blake.
The piece is five movements, the first three of which are played without pause, each based on a simple visual metaphor: Static, Thread, Shape, Rain, and Echoes. Mathematics served as a common language of inspiration and generation for both the music and the visuals.
Components
Computer, projector, screen
Booking
Contact Dmitri Tymoczko to discuss performing The Thousand Faces of Form with your orchestra or in your venue, or including it in your program.
Performances
2016 – The Geometry of Music, with composer Dmitri Tymoczko and the Kitchener-Waterloo Symphony. Curated by Krista Blake. Conrad Centre for the Performing Arts, Kitchener, Ontario, Canada.
Credits
The Thousand Faces of Form was commissioned and performed by the Kitchener-Waterloo Symphony, conducted by Edwin Outwater, and supported by Christie Digital. Photos courtesy Brian Limoyo. The Thousand Faces of Form was a collaboration with composer Dmitri Tymoczko. Utilizing his geometrical music theories (see A Geometry of Music), Tymoczko wrote custom software to work with the structures found throughout geometrical chord space, in the course of composing the piece. We had many conversations about these mathematical and musical structures, and I wrote custom software to take these ideas and interpret them visually, using tools such as Processing, Syphon, VDMX, and the Korg nanoKONTROL 2 to perform the visuals live from my laptop along with the orchestra.
Links
The Thousand Faces of Form on Dmitri Tymoczko's website
Funders
Supported in part by Christie Digital.