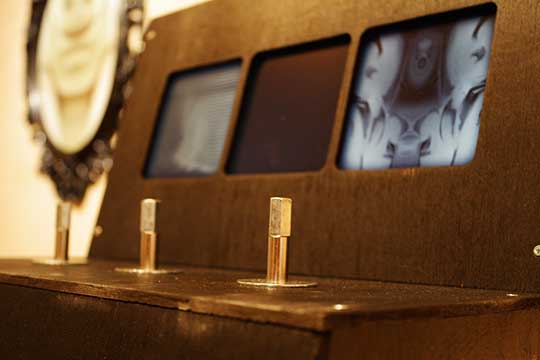 To comprehend a complex system, it is often necessary to understand both the details and the big picture, and to jump back and forth between those levels of abstraction.
This interactive sculpture allows the viewer to intuitively explore and experience a chaotic mathematical system. As the joysticks are moved, the imagery on the screens and accompanying sound provide feedback as to what is happening in the somewhat unpredictable four-dimensional parameter space.
Components
Computer, LCD display, joysticks, electronics, wood
Dimensions
13 1/2 x 15 3/4 x 20 inches
Edition
Limited Edition. Click here for details.
Exhibitions
2014 – Beautiful Chaos, Orange County Library System Melrose Center Opening, Orlando, FL
2013 – Arts & Algorithms on the Space Coast, Titusville, FL
2012 – Beautiful Data: Technology and the Creative Process, Kent State School of Art Galleries, Kent, OH
2012 – Granted!, City Arts Factory, Orlando, FL
2012 – Bridges Art Exhibition, Towson, MD
2011 – Aesthetic Explorations and Eyes of My Soul (with photographer Russell Levine), Highland Beach Library, Highland Beach, FL
2011 – Process & Influence (solo), The Gallery at Eissey Campus, Palm Beach State College, Palm Beach Gardens, FL
2011 – Orlando Mini Maker Faire, Central Florida Fairgrounds, Orlando, FL
Awards
2012 – Most Innovative Award Recipient. Bridges Art Exhibition, Towson, MD.
Links
Additional Details
Faces of Chaos Tech Notes
Strange Attractors Tech Notes Tutorial: Strange Attractors in C++ and OpenGL