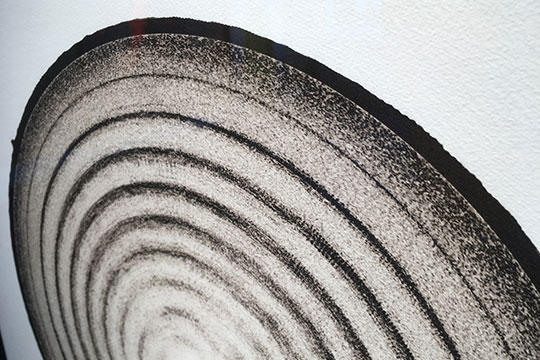 Audiograms are visual encodings of one minute field recordings from my travels around the world. An Audiogram is a message from me to you, and from me to me – an artifact of remembrance, of being somewhere, of what it was like to be there at a particular place and time, and to listen.
Soundscapes that we often consider background – birds and rustling leaves, traffic, conversation, machinery – are brought into the foreground in this series of prints, videos and interactive experiences. I love being outside surrounded by nature, so the first four recordings I have chosen are all from the outdoors. My code analyzes the frequencies and volume of the sound, and uses that data to draw patterns into digital images. The resulting artworks are like fingerprints – each unique – and carry a resemblance of their natural roots.
I invite you to look and listen in a way you have not before.
Components
Inkjet prints, framed; iPad app
Dimensions
Variable
Edition
Limited Edition. Click here for details.
Exhibitions
2017 – Perception & Reality II, Snap! Downtown, Orlando, FL
Credits
Some photos courtesy Emily Jourdan
Links