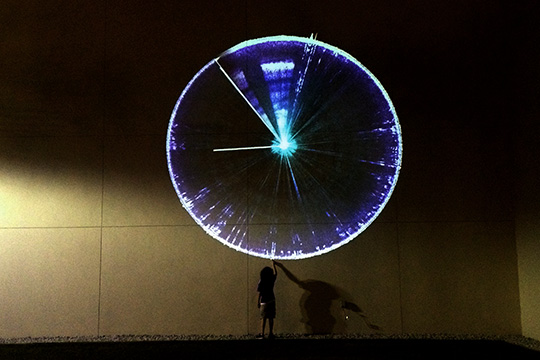 A projected clock senses and visualizes the auditory environment in which it is situated, translating sound into light.
The hour and minute hands are represented by real-time audio waves, and the second hand traces out and visually records the frequency spectrum and overall volume of the audio input as it circles the clock. At any given time, the viewer can look at the clock and see not just what time it is, but what the last minute of time in the aural realm looks like.
Audiograph listens to its surroundings and translates sound into light, regardless of the sound's origin. The tone of human voices, music, traffic, water, and the other sounds found in the city are all different, and will all appear differently on the projected clock face. A large clock is a common object to encounter in the public space, but this clock causes viewers to think differently about the space that they are occupying and moving through, since it enables them to "see sound." Audiograph also has the potential to transform the tone of the public space it occupies into one of play, interactivity, active listening, and intentionality.
Debuted at Art in Odd Places 2015: TONE.
Components
Computer, projector, microphone
Dimensions
Variable
Exhibitions
2015 – Art in Odd Places 2015: TONE, Orlando, FL
Credits
Made with openFrameworks. I'm not the first to visualize an FFT frequency spectrum in a circular format, nor will I be the last. Shout out to spectrogr.am, a beautiful project with a similar aesthetic that I came across towards the end of this project. The site isn't live anymore, but you can see the images in this Prosthetic Knowledge post.
Art in Odd Places 2015: TONE was curated by Patrick Greene & Genevieve Bernard. Festival Producer, Timothy Turner. Produced by Downtown Orlando Arts District, Barbara Hartley, Executive Director.
First photo courtesy Katie Kuykendall.
Links
Funding
Supported in part by Downtown Orlando Arts District and Charles March, Power Movements.