Audiograms Calendar
Print, 2019.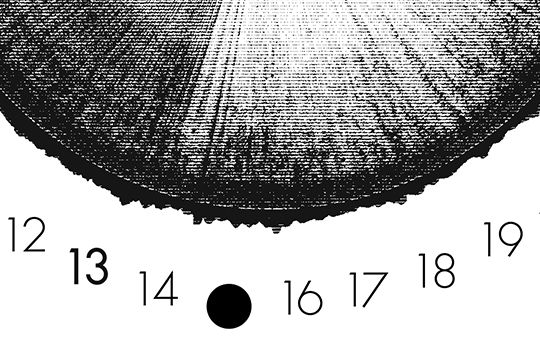 "Audiograms are visual encodings of one minute field recordings from travels near and far. An Audiogram is a message from us to you, and from us to ourselves – an artifact of remembrance, of being somewhere, of what it was like to be there at a particular place and time, and to listen." — Amy Christie and Nathan Selikoff
2020 Edition: each month features an audiogram from sounds recorded around Orlando. 50 limited edition, signed 18 x 12″ prints on manila paper.
Listen to the sounds that created these images:
January: Approaching SunRail, Church Street Station
February: Gong Concert, Avalon Island
March: March for Our Lives, Lake Eola
April: US vs Ecuador, Orlando City Stadium
May: Piledriving, I-4 Ultimate
June: Expedition Everest, Animal Kingdom
July: Tablas, Blue Bamboo
August: Orlando International Airport
September: Hurricane Dorian
October: Immerse
November: UCF Choir
December: Fusion Fest
Edition
Limited Edition:
50 signed 18 x 12″ prints on manila paper
50 signed 19 x 13″ prints on archival inkjet paper
Also, limited edition fine art prints of the individual Audiograms are available.
Links
Audiograph
Audiograms
Circumnavacation Blog
Previous Editions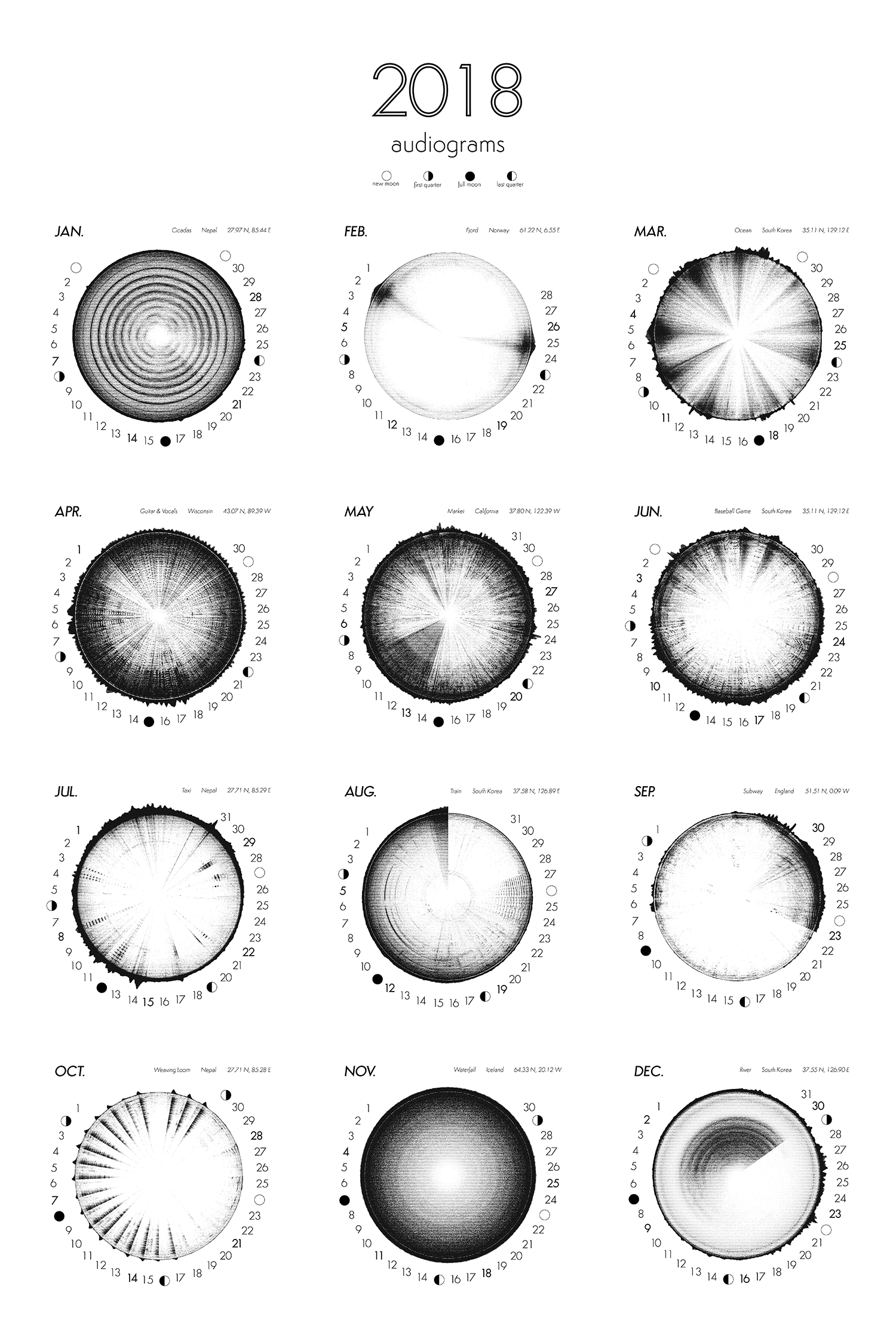 2018 Edition: each month features an audiogram from our 2016 circumnavigation around the northern hemisphere, notated with the nature of the sound, the name of the place, and the latitude and longitude where the sound was recorded. Listen to the sounds that created these images:
January: Cicadas, Nepal, 27.97 N, 85.44 E
February: Fjord, Norway, 61.22 N, 6.55 E
March: Ocean, South Korea, 35.11 N, 129.12 E
April: Guitar & Vocals, Wisconsin, 43.07 N, 89.39 W
May: Market, California, 37.80 N, 122.39 W
June: Baseball Game, South Korea, 35.11 N, 129.12 E
July: Taxi, Nepal, 27.71 N, 85.29 E
August: Train, South Korea, 37.58 N, 126.89 E
September: Subway, England, 51.51 N, 0.09 W
October: Weaving Loom, Nepal, 27.71 N, 85.28 E
November: Waterfall, Iceland, 64.33 N, 20.12 W
December: River, South Korea, 37.55 N, 126.90 E